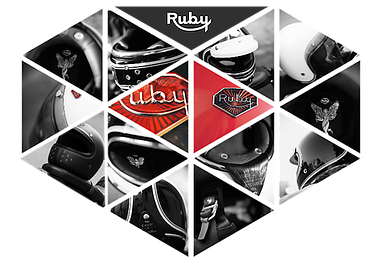 What we do
​
We at Les Ateliers Ruby, research, develop, create, sell and distribute exquisite luxury carbon fiber motorcycle helmets and motorcycle gear for everyone, who likes to choose something exceptional.
Our workshop is located in Xiamen city, China where each RUBY helmet, exactly as you can see it on our website, is produced.
With the help of our different helmet types such as the open face helmet «Pavillon» the Jet-helmet «Belvedere» and the full-face helmet «Castel», the helmet as a compulsory protective device becomes a luxury accessory and an object of desire.
We at Les Ateliers Ruby help our riders underline their exclusivity by offering a large variety of different styles for our helmets and endless possibilities of customization. You can customize the color. Contact us to learn more.
Vision
Always striving to reach supreme quality in what we do, we at Les Ateliers Ruby have the objective to achieve the finest helmets in the world with respect to functionality, as they are comfortable, very light (outer shell is fully made of carbon fiber) and use state-of-the-art technology, as well as with regards to style & aesthetics.